We travel in the most modern touring motor coaches on the road.
The large windows assure a wonderful view of the countryside and  passing attractions from every seat.
Our motor coaches are equipped with the "Kneel" function which permits the front end to lower itself, thereby making it easier to get on and off.
The coaches are also equipped with a bathroom onboard
and we stop frequently for rest breaks while touring.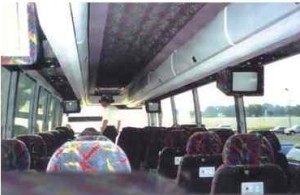 The inside of our tour coaches are very plush with
comfortable tour seating and television monitors throughout.
To further enhance your traveling pleasure, each seat is equipped with an individually controlled sound system. By plugging in your headset and adjusting the volume where you
want it, you can enjoy a wide selection of music as well as hear the audio portion of whatever is on the television monitors.
Other features to add to your travel pleasures are satellite television
and wireless Internet access.